PUNCHY, LIGHT, COLOURFUL GLASSES TO WEAR IN FRONT OF A SCREEN !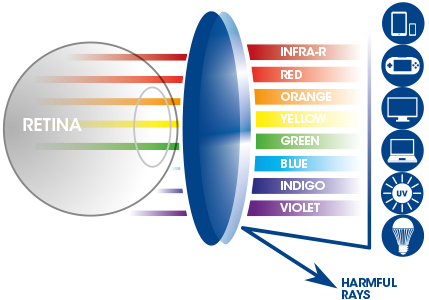 Choose a shape to match your style and mood from a palette of punchy colours with something for everyone. You'll be so captivated by their velvety mat touch and lightweight design that you'll be unable to do without them!
At home, in the office, on holiday – with Blueberry glasses, adults and children alike can protect and rest their eyes when in front of a screen.
11 colours, 4 trendy shapes – a whole raft of possibilities to filter out blue light and protect your all-important eyesight !
Thanks to BLP Lens©, Blueberry© glasses relieve eyestrain, block 100% of UV and around 40% of the harmful rays (380-450 nm) of the blue light spectrum.
PERCEPTIBLE OR IMMEDIATE EFFECTS
OF BLUE LIGHT ON YOUR EYES :
Fatigue/dry eyes
Glare
Headaches
Watery vision
Blurred vision
EFFECTS OF LEDS AND BLUE
LIGHT IN THE LONG TERM :
Difficulty in sleeping
irritability, mood swings
Development of cataracts
ARMD (Age-Related Macular Degeneration)