on Thursday 9 May 2019, 11:04 - Permalink
The return of sunny weather is the perfect occasion to switch out your old sunglasses for a new pair! You've already decided to go for a pair of Blueberry Sun, you've been convinced by our polarised lenses, their stylish frames and their strong category 3 UV protection, but there's just one problem that remains: What's the difference between the three types of polarised lenses? Read on to find out!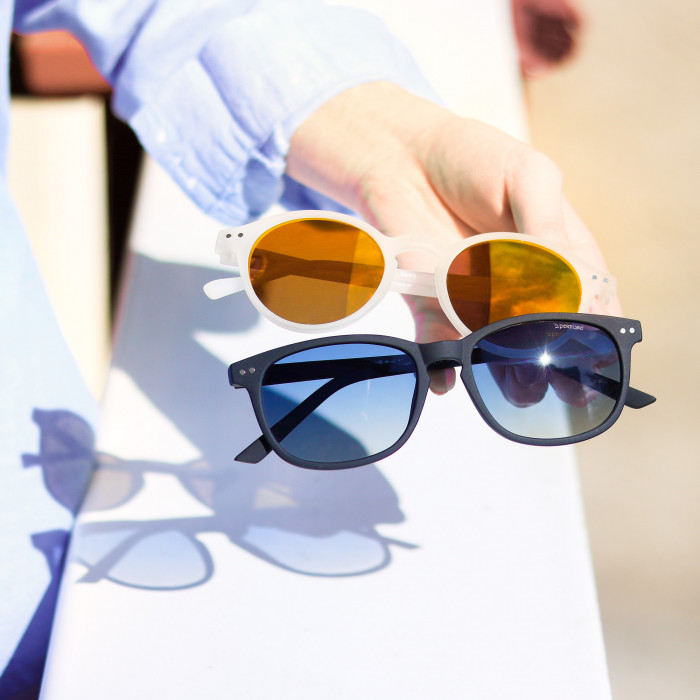 Choosing your polarised lenses
You have the choice between plain, shaded or mirror effect lenses. In general, we mainly find plain lenses on the market.
Shaded and mirror effect lenses are appreciated mostly for their aesthetic attributes. Mirror effect lenses have an intense light filtering power and can greatly diminish glare (they also allow us to look around without being seen, if we're being honest!).
Shaded lenses can have a colour that fades from top to bottom with varying levels of protection, or they can be a mix of two colours.
The promise of polarised lenses
No matter which of our polarized lenses you choose, our sunglasses offer you category 3 protection, which means 100% UV protection. They stop light rays reflected by the sun, which reduces glare and gives you clearer, more contrasted vision.
Plus, they'll provide this protection no matter which colour lenses you choose for your sunglasses, which you already know if you've read our article STOP Preconceived Ideas About the Sun and Our Eyes!
So what are you waiting for? Get yourself a pair of our polarised lens sunglasses or clip-ons today! And let us know which lenses you fell in love with: plain, shaded or mirror effect? ;)